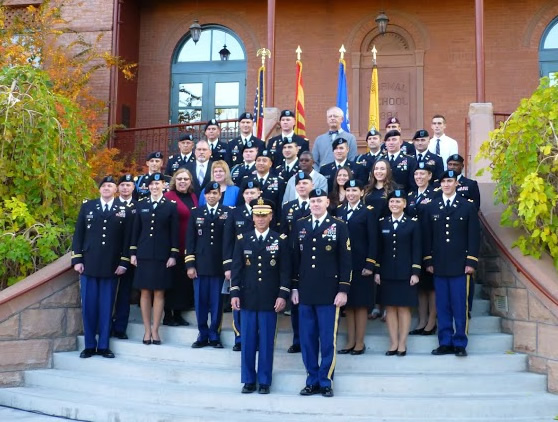 Established on 17 July 1967 in Phoenix, Arizona, as a 501c(3) non-profit organization, the Arizona Territorial Chapter 7202 of the Association of the United States Army (AUSA) works in support of AUSA national initiatives to advance community awareness and serve as a voice for our Active, Army Guard & US Army Reserve members, retirees, DA Civilians and their families.
Together with our two sister AUSA Arizona Chapters (Tucson-Goyette & Fort Huachuca-Sierra Vista) and other 7th Region Chapters, plus our always supportive Corporate membership, we strive to educate and promote local understating of Army issues. We also emphasize the importance of maintaining a strong and ready military force for national security. Our Chapter's area of influence includes all of Maricopa County and the areas adjacent to it ~ which encompasses Pinal, Gila, Graham, Greenlee, Apache, Navajo, Coconino, Yavapai, Mohave, La Paz and Yuma counties.
Our primary local service programs include deployment, remobilization and reintegration support to our Active, Reserve and National Guard Soldiers, and their families, and veterans/retirees. Additionally, we give special attention to our local recruiting and accession commands including the Phoenix Recruiting Battalion, as well as, the Arizona State University (ASU), Grand Canyon University (GCU), Northern Arizona University (NAU) and Embry-Riddle Aeronautical University (ERAU) ROTC, and local JROTC programs.
The National AUSA Mission
AUSA represents every American Soldier by:
>> Being the voice for all components of America's Army
>> Fostering public support of the Army's role in national security
>> Providing professional education and information programs
Our Vision
As the premier voice for America's Soldiers, we are a dedicated team committed to building the most professional and representative association for the United States Army.
Our Values
Excellence
Innovation
Professionalism
Inclusiveness
Integrity
Responsiveness
Who Can Join?
AUSA is open to all Army ranks and components including Active, National Guard, and Reserve as well as Department of the Army civilians, retirees, concerned citizens, and family members. Indeed, AUSA welcomes anyone who subscribes to the philosophy of a strong national defense with special concern for the Army. Community businesses and defense industry companies are also represented by AUSA. Visit AUSA's membership page and JOIN NOW by clicking the link on the side bar!